Download lolMiner 1.68 - NVIDIA+AMD GPU Miner
Version: 1.68
File: *
lolminer.exe
,
SHA256: a05c020104d372318ca537144ee3e81a401919a3fdde42c59ce69fedb9015b26
(Download for Linux)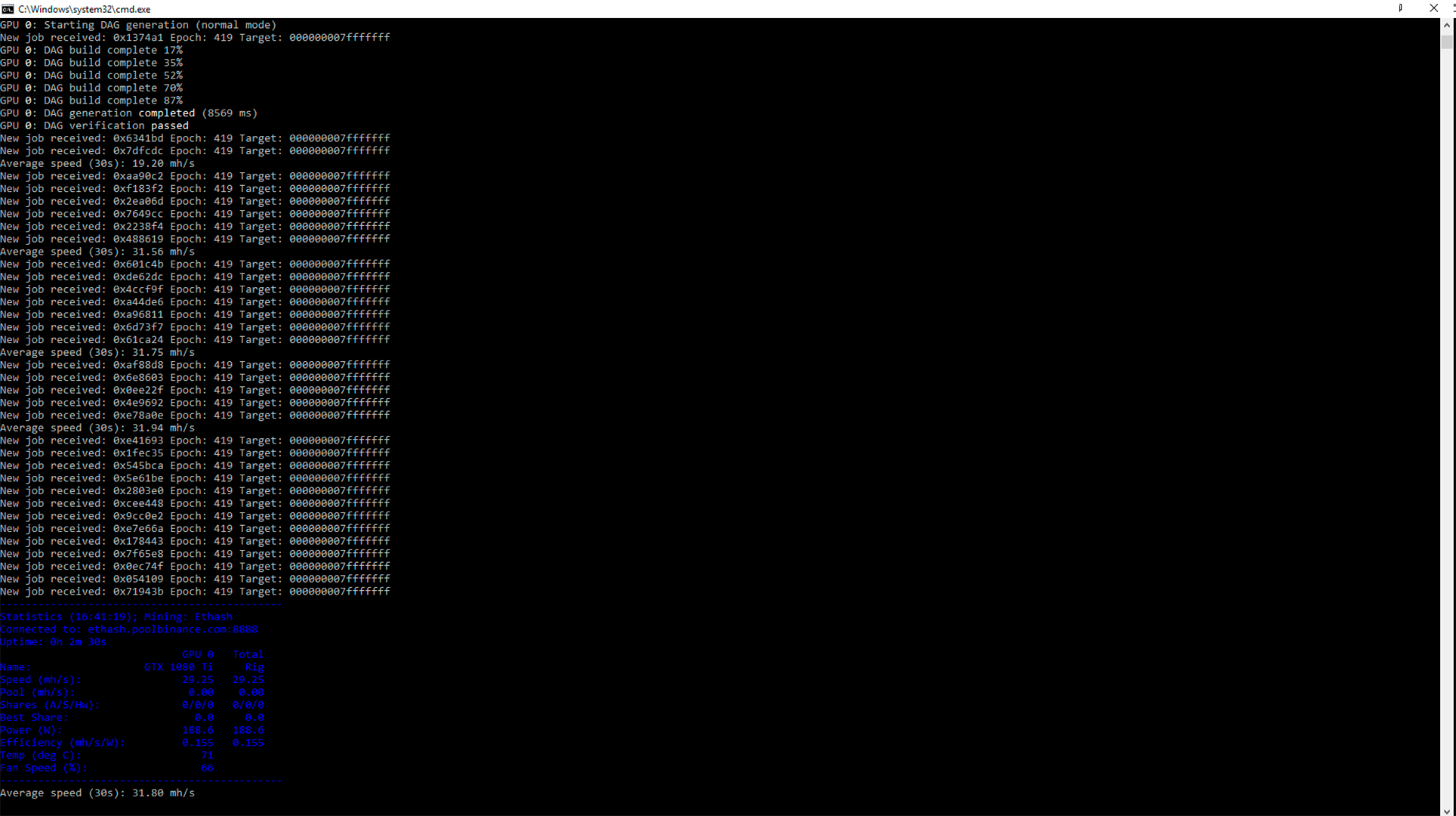 The new lolMiner stable version is ready.
You can download lolMiner 1.68 from here:
Inside the archive you will find a file README.txt with installation instructions.
Make sure to replace the pool and wallet address by what you're using in all files.
Changelog
Significantly improved Nexa mining performance on supported GPUs (e.g. up to +25% on 8G Ampere GPUs).
Fixes:
Fixed a bug that can make the miner crash with error message "Authorization problem on all configured pools 1" during Nexa mining
Note
The alternative Windows version uses a different mechanism to determine the available memory on a Windows system. On most 8G GPUs this will cause the miner to select a smaller dataset table that has only slightly above 2 G. Therefore the alternative version might be a good choice for systems with connected screens or for Nexa / Zil mining using the Zil switching app.
General note: The Nexa gpu codes are (and will be in foreseeable future) joint work with Iedoc from BzMiner. Miner fees will be evenly shared regardless of which of these two flavors of the code you prefer.
Windows note: Try lolMiner_v1.68_alternative_Win64 ONLY if you get the message GPU ?: error in allocation memory 0 .
lolMiner 1.68 vs BzMiner 13.2.0 vs Rigel Miner 1.3.7 mining NEXA Hashrates and Overclocks on HiveOS
One thing to add on, Rigel is the only miner that does dual mining Nexa and Zil if I'm not mistaken. So more profits on running Rigel miner I believe comparing the other two miners. But actually lolminer and BZminer can both dual mine Nexa & zil now with the new releases. And I hear the overclocking switching is more stable.
lolMiner install command:
wget https://github.com/Lolliedieb/lolMiner-releases/releases/download/1.68/lolMiner_v1.68_Lin64.tar.gz 

&&

 

tar

 

-xvf

 lolMiner_v1.68_Lin64.tar.gz 

&&

 miner stop 

&&

 

cp

 

-adpR

 1.68/lolMiner /hive/miners/lolminer/1.67 

&&

 miner start  

Rigel Miner install command:
cd

 ~/tmp 

&&

 

rm

 

-rf

 ~/tmp/rigel-1.3.7-linux/ 

&&

 wget https://github.com/rigelminer/rigel/releases/download/1.3.7/rigel-1.3.7-linux.tar.gz 

&&

 

tar

 

-xvf

 rigel-1.3.7-linux.tar.gz 

&&

 miner stop 

&&

 

cp

 

-rf

 ~/tmp/rigel-1.3.7-linux/rigel /hive/miners/rigel/1.3.6/ 

&&

 

rm

 

-rf

 ~/tmp/rigel-1.3.7-linux/ 

&&

 miner start  

BzMiner install command:
BzMiner 

install command

 - 

rm

 

-fr

 /tmp/

*

;

 

cd

 /tmp

;

 wget https://bzminer.com/downloads/bzminer_v13.2.0_linux.tar.gz

;

 

tar

 

-xvf

 bzminer_v13.2.0_linux.tar.gz

;

 miner stop

;

 

cp 

bzminer_v13.2.0_linux/bzminer /hive/miners/bzminer/13.1.1/

;

 miner start  

lolminer vs bzminer vs rigel miner Excel spreadsheet link
Exodus Wallet Review - Download, Fees, App, Security, Staking & More